Double Your Sales in Less Than 1 Year... Guaranteed!
'Discover The 7 Biggest Secrets of the World's #1 Retail Car Salesman'
Plus 20 Powerful Ways to Make Sure the Customer Says "YES!"
Dear Professional Retail Car Salesperson,
Joe Girard is in the Guiness Book of World Records for the most sales in a single year, and averaged an amazing 6 sales per day throughout his amazing career.
Now I've condensed Joe's sales-boosting and personal wealth building advice into a series of 7 special emails, which you can get for FREE, simply by filling in your details in the form on the right.
In this special report you'll discover Joe's record-breaking sales techniques, including...
Why you need think BIG... but NOT Join 'the Club'

Joe's "Rule of 250" and how it can produce all the sales you could ever wish for.

How to turn losing sales into a winning game plan.

The simple one line phrase Joe uses to sum up how he smashes all the sales records.

How to 'paint' a customer profile that

guarantees future sales.

Key questions that turn 'mooches' into buyers.

The #1 most important thing you need to know about your prospects.

Five powerful ways to turn a prospect into a buyer.

How to make your customers feel they owe you a favour,

(i.e. a big cheque!)

How to get past 'the last sticking point' and

make the deal.

And the final secret #7 which ensures you consistently increase your sales over the coming months and years...

without even breaking a sweat.
This is knockout advice and it's completely free, no strings attached. Fill in the form on the right to receive the first secret right now, and the other 6 secrets one every other day over the next two weeks.
Best regards,



Rob Purfield, the UK's #1 Sales Trainer for the automotive industry, and author of 'The 7 Biggest Secrets of the World's #1 Retail Car Salesman'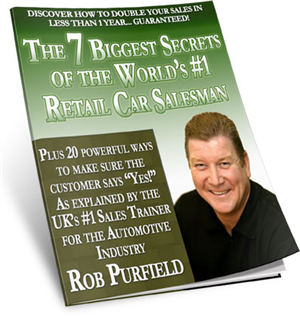 Fill in the form below to get this delivered direct to your email inbox...